The perfume island from North to South
Historical, economical and cultural aspect of Nosy Be.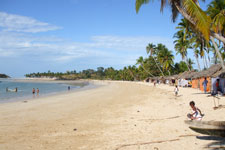 Visit of the village of Dzamandzar, the sugar factory which still stands as a landmark despite its lockout, and the sculptor.
Tour of Hell Ville (capital of Nosy Be), its covered market with spices, slacks of crabs, tropical fruits, its colonial buildings, and its table cloth market. Quick visit at the harbour and free time for shopping.
Departure to discover an authentic sacred tree (Banyan millennium). On the road we will be perfumed by the flowers of coffee, of pepper, fruit trees, and above all "Ylang Ylang".
Lunch in one of the famous restaurant of the island.
Bathing in the afternoon on the beach of Andilana, the most beautiful beach of Nosy Be.