Paradisiacal Island
Nosy Iranja est située à 1h30 en vedette rapide de Nosy Be. Ces deux îles sont reliées par un banc de sable blanc et fin qui est recouvert à marée haute, et découvert à marée basse.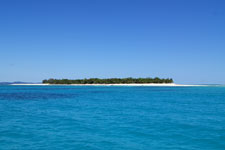 Nosy Iranja is situated at 1 hour and 30 minutes from Nosy Be by speed boat. These two islands is connected by a white and fine sandbank, covered in high tide and discovered in low tide. It is a paradisiacal island with its turquoise blue colors, white paradise, and green nature. Tortoises still lay there this day, hence its name «Turtle Island». Various type of birds can be seen there; terns, herons and sometimes maritime eagles too.
Lunch buffet is served under the shave of coconut trees (crabs, grilled fish, beef stew, shrimps, coconut rice, salads, and tropical fruits).
Photo shoot ensured. Visit of the lighthouse and the authentic village of Iranja Be.
On the course, discover the coast of Madagascar and kilometer of bare beaches, «the sugar loaf» (big rocky mass of rocks at mid-way), And Nosy Antsoa, island still totally authentic, worthy of Robinson Crusoe.